What happens when two worlds collide? Either something beautiful or something sinister. Will it end in clarity or end in chaos? In this new series of blogs, I will be snooping through various fandoms to find the compatibility of Shadowhunters with other fandoms to see if we can create the ultimate, perfect fandom.
In this new series we will look at various different fandoms and see how well they would merge with our very own fandom, Shadowhunters. We have lots of cool stuff that makes us unique in our fandom, the Mortal Instruments, the concept of runes, our various weapons and gadgets such as the seraph blades and our steles, so lets see how well we can put blades and wands together as we compare ourselves to the wizarding world of Harry Potter!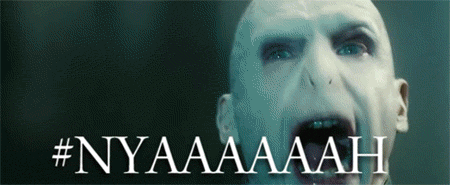 Oops, Voldemort doesn't approve. Speaking of which, who would best fit as a mirror of Voldemort in Shadowhunters? Best guess, Valentine Morgenstern. Still, Shadowhunters and Harry Potter share a few similarities, but not many. For example, we both have our own forms of magic. Our fandoms both do revolve around the concept of magic, in Harry Potter magic is the essence of force and power in Harry Potter whereas here it is the life force of our angelic powers, the similarity still remains that magic is the essence of our being.
 
Any other similarities? Of course there's the Shadowunter Adademy. Like our own Hogwarts, the academy raises new Shadowhunters, teaching them how to be raised to become fighters in the Shadow World and uphold the reason of being for Nephilim. Hogwarts does technically work in the same way, though of course they aren't trained to fight, more like taught to gain knowledge and use it how they wish. Knowledge versus power after all.

 
So wht do you guys think when it comes to the ultimate question? Is ShadowPotter our new power fandom or will this end in disaster? Let us know your opinions for next week's edition!