VAMPIRE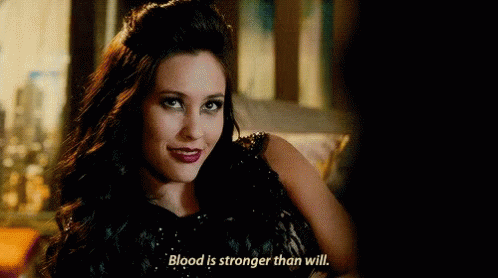 Vampires are often sold to us as enigmatic beings that all young girls dream of meeting, and that all boys dream of becoming, to seduce as many girls as possible. Yet, when we look at two of our vampires in our favourite series, we discover that acceptance of this state is not always easy. Simon lost all his family and felt terribly alone, while Raphael wanted only one thing: to become human again.
But if you were offered the opportunity to become a vampire, would you grasp it? In order to help you with your choice, we offer you some advantages and disadvantages to consider. Open your ears.
Advantages
1 / You are immortal. You will cross centuries, eras, people and their history. You will be able to take advantage of the time you have to discover the world and fulfil all your dreams.

2 / Anemia? What is it? During your lifetime, you necessarily needed blood to live, now you need it to feed you. This rich taste of iron is undoubtedly the most delicious nectar to your lips. And you have the choice between AB, A, B, O and all this in a negative as in a positive, what luxury!

3 / Your abilities are increased tenfold like Avalon Deahmon. Besides this pretty face that becomes yours, you can also develop superhuman strength, a face to pale the Veela in Harry Potter, a speed beyond that of Usain Bolt, incredible healing ability and you do not need air to breathe. When you're dead, it's completely useless to breathe unless you want to pretend to be a human. In this case, remember to practice well, it's all a game of acting to pass for a human.

4 / You can bite and say it's not your fault but your predator instincts.

5 / You are untraceable. Unless you have a GPS on you (or human subjugated), you can't be followed by magic, warlock, demon, or Nephilim. Peaceful, right?

6 / You can create your own dynasty. So, of course, designing children of your flesh is impossible (again, Bella's child is a LIE, my friends) BUT you can still turn humans into a vampire and create your own empire.

7 / You are very clean. So yes, it is a significant detail. Of course, you eat a lot like pigs when you talk about blood but when it comes to talking about the dirt of your grave, then it is better for the person having soiled it to not be present when you return for inspection.

8 / You can control others. A little "encanto" and the trick is played, the human is under your absolute control. In addition to that, this power also allows you to turn into bats, rats and even DUST and it's nice to use to sneak up to your prey.
The Inconvenience
1 / You are dead. It's clear, you are no longer part of the world of the living but creatures of the night.

2 / You can not go out in the middle of the day. You are a creature of the night and it is impossible for you to go out in the middle of the day on pain of feeling like a grilled pig.

3 / The good meals of Granny Cecile. I'm sure Ciara Darkshore regrets them. All you can eat now is this reddish or brownish liquid that can make you go crazy.

4 / You will not be able to shine in the middle of the day but burn well. Unlike the mirror ball in the Twilight series, when the sun is near your skin, you burn. Yes, becoming a vampire is not as cool as Edward Cullen would have you believe.

5 / Touchwood is no longer an expression that you can use. If a stake meets your heart, it will be the gates of Hell that you see.

6 / Your rebirth is as scary as the first. Well, there you come out of the tomb where you were locked up. There is more glamour at a place of birth than the haunted cemetery of Greyfriars Kirkyard in Edinburgh.

7 / You will end up inevitably alone. The more time passes, the more you will find yourself alone. Your family will eventually die and all the people you knew during your lifetime. Moreover, you will not be able to approach them because, while they grow old, you will remain the same since the day of your death.
And you? Do you prefer to be or not to be a vampire? Will the taste of immortality be the cause of loneliness or will it be too strong? Would you be willing to side with Avalon Deahmon and Ciara Darkshore as a child of the night?
 
By the Angel Raziel, we love you!
Member of SoMe Team